In the picturesque town of Vreeland, you can find the inspiring house of (interior) stylist Margriet (better known as Mek). It's the place that Margriet, her husband Danny, daughters Jane and Olivia and dog Choco call home. Come with us and get inspired by everything you see.
The desk situation
The advantage of our growing preference for working from home also calls for a beautiful, tranquil space to sit in. And that's exactly what we're doing! So, with love, we are creating a Peaceful Spot In our home for you and for arts & crafts by the kids.
Choco
Introducing Choco, the dachshund who's become a cherished member of our family. This adorable companion has a unique sense of style all its own. If you're in search of a furry friend that prefers cozy indoors over rainy walks, look no further.
Unique ceramics
With her keen eye for detail and her collector's spirit for beautiful things, she has a stunning ceramic selection at home. Here, you can see the plates and bowls by Anouk Kramer, Astier de Villate mixed with The English Boys, all handcrafted.
What's cooking
With children, it often applies: the more, the merrier, which parents don't always appreciate. But look at how beautiful this looks, even within sight in your living room. Children love to mimic what their parents do: cooking, cleaning, and role-playing. With all these items, they can have hours of fun.
Let Olivia show you around
Step into a dreamy room, where little girls are growing into big girls.
Shop Olivia's room
Olivia now has the choice to sleep in her spacious bed or indulge in cozy naps in her baby cot. This transitional stage isn't just special for the child, allowing you to hold onto the precious baby moments a bit longer…
welcome in
Jane's bedroom
Jane recently celebrated her 4th birthday and, unfortunately, was at school during the photoshoot. However, we did get the chance to capture her beautiful bedroom in pictures, with our H&G canopy shining above her new Boheme bed.
Amour toujours
For the everyday kind of love for treasures.
Wall decoration
Transform your wall into a canvas of cherished memories, collector's items, and ever-evolving pieces. We adore crafting wall collages that uniquely reflect your personality. Explore how Mek beautifully styled one such creation here
Let's play
Soft dolls are the most fun for playing make-believe games, and this bear also keeps you warm because there is a warming pillow inside the belly.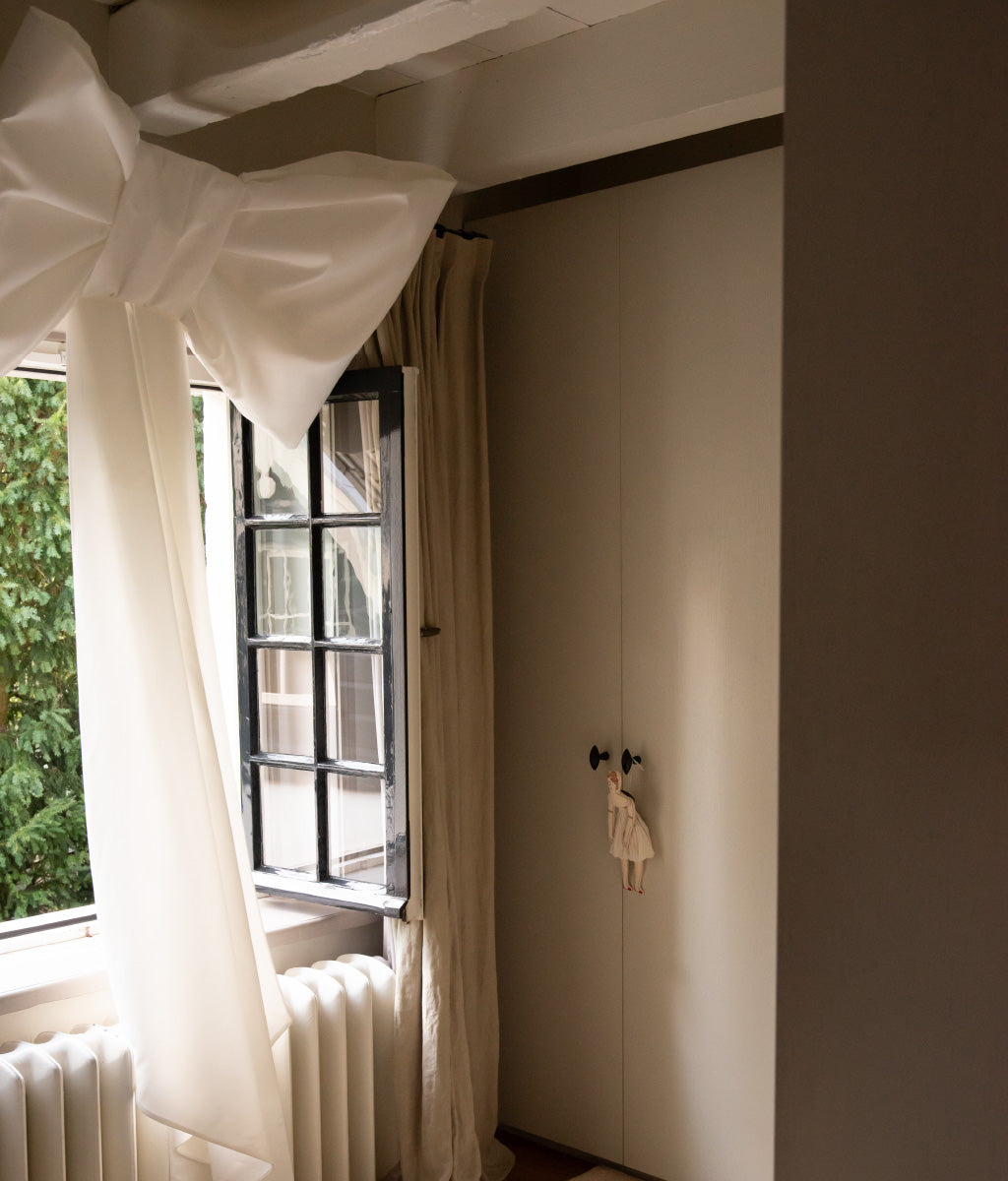 Take a bow
Let's go to the next room. To get there, we'll take a staircase downstairs and arrive on the floor of Mek and Danny.
Recently, Mek got married, and you can imagine how fantastic it all looked. This bow was made by the Citydressers and now adorns their bedroom.