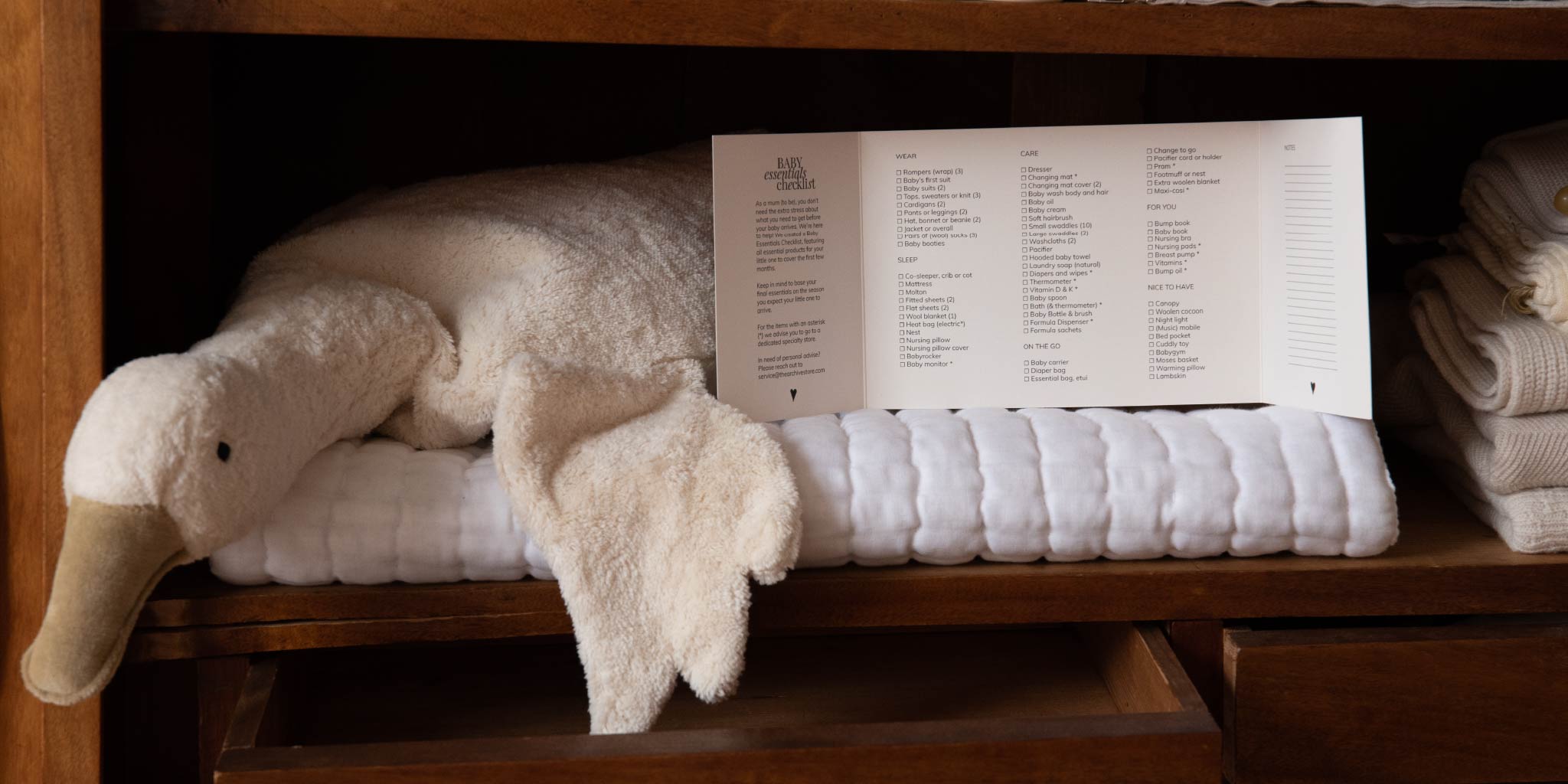 Baby Essentials Checklist
We're here to help
As a mum to be, you don't need the extra stress about what you need to get before your baby arrives. We've created a downloadable list to print at home, so that you start checking off. But first, continue to read to learn about all the essentials.
Cribs and cots
Make your baby sleep like a...baby in our meticulously curated selection of cribs, cots and cradles for your nursery.
Woolen blanket
Complete your crib or cot with one of the most soft baby blankets you can get from our carefully curated collection. Ranging from Hazel & George to Hvid and from Numero74 to Garbo&friends, we offer endless options when it comes to choosing the perfect baby blanket for your nursery.
Nursing pillow
Nursing pillows are perfect when it comes to feeding your baby- be it breastfeeding or bottle. But did you know you can start using it during your pregnancy already? It makes sleeping or simply lying down so much more comfortable; and we all know how much you need your sleep while waiting for your little one to arrive...
The perfect nest
We have collected the softest and most beautiful nests and sleeping bags to make sure your baby is snug as a bug during both summer and winter.
Care
Whether you start or end your little one's day with a bath, it's such a nice moment of calm and play. We have gathered a wonderful selection of all things necessary for both bathtime and care, ranging from skincare to bath toys and from towels to bathrobes, swaddles and more by brands like Minois, Kenkô and Bonton.
Changing station
Changing mats are quite indispensable when it comes to baby essentials. Be it at home or on the go, you want your little one to be comfortable while you change a diaper; that is why we carefully selected the softest mats out there.
Bath & Body
The softest skin needs the gentlest care; that is why we selected the most beautiful skincare products for baby and family by brands like Kenkô, Minois and Bonton. Ranging from oils to creams and from purifying soaps to bath and shower gel, we want our products to contain as many natural ingredients as possible. Suitable for sensible skin.
Hooded baby towel
Cozy bathrobes and towels are your best friends when it comes to after bath time bliss. Wrap your little one in the softest and cutest fabrics out there, all carefully selected for your little one.
Soft baby brush
This wooden baby hair brush is made of oiled pearwood and goat hair, specially gentle for the sensitive scalp of your baby. The right "cuddly brush" for babies up to 1 year.
On the go
Find here the most practical baby gear you'll need; from baby carriers of fabulous brand artipoppe, to car seat covers and pram pillows of Cocoon Company. The basic musthaves for on the go.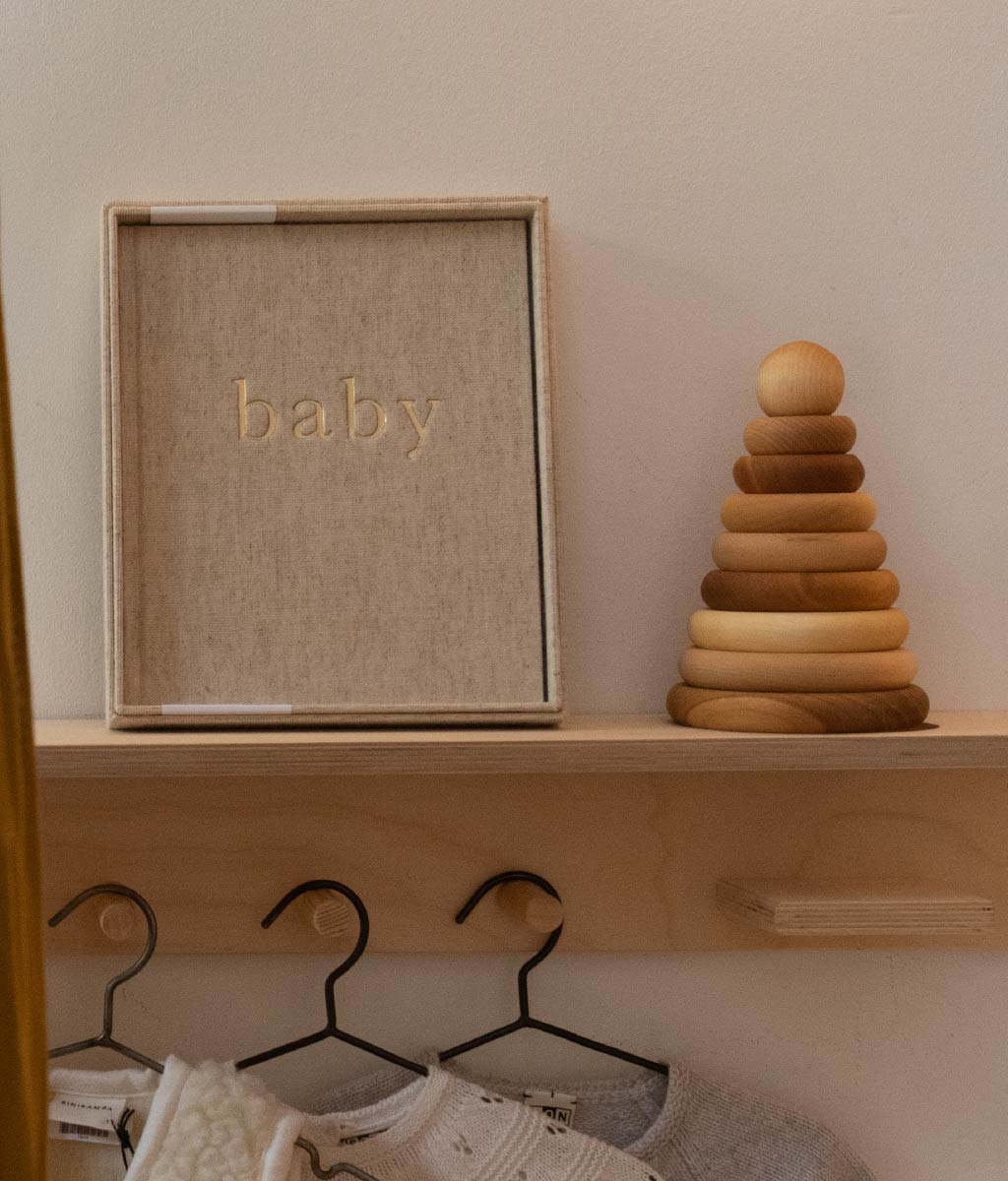 For you
Soothing bath & care products from Minois Paris, Kenkô and SABI, sought-after journals from Write to Me and unique linen bedding - find all of these must haves for yourself at our curated selection.